Bucket Lists: whose list is it anyway? Café Psychologique, 31 January, 8 pm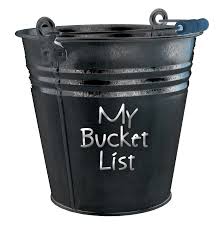 'Our greatest fear should not be of failure, but of succeeding at things in life that don't really matter.' Francis Chan.
At the White House Correspondents Dinner in 2015, President Obama had some fun with the term 'Bucket List'. He said:
"After the Mid-Term elections, my advisers asked me, 'Mr President, do you have a bucket list?'" President Obama continued, "And I said, 'Well, I have something that rhymes with 'Bucket List'…"
The term 'Bucket List' was popularised by a Hollywood Film that explored the common human fear of not achieving anything of significance, and of leaving hopes or dreams unfulfilled. A bucket list might be an attempt to combat the tendency to just give up on dreams in the face of the relentless demands of daily life and work. It might also be an attempt to face down the fear of our own mortality; an attempt to die with our boots on.
This café will explore what bucket lists are, how they work, and how they can be a way to give ourselves a 'Ctrl-Alt-Del' reboot when life seems to have become stuck or is running like a sluggish computer. There will also be opportunity to think about what might be on your own bucket list and gain ideas from others at the café.
The café will be introduced by Terry McAndrew, a cafe regular and IT Systems Adminstrator, who found himself needing to gain fresh impetus and explore options ten years ago. He is particularly interested in how to make better decisions sooner rather than later, and definitely before it gets too late.
Join the conversation at Café Psychologique Leeds, on Tuesday 31 January 8.00 pm to 9.45 pm in Seven Arts, Chapel Allerton, Leeds. The Café costs £4 on the door.
There is a poster to download here:
Café Psychologique January 2017
You can join in the conversation online on our Facebook page: Café Psychologique
You can read the Café Rules here: Café Psychologique Rules